Pearson Test of English (PTE)
The Pearson Test of English is an online language proficiency test for international study and immigration that is accepted across thousands of universities in countries such as Australia, New Zealand, UK, Ireland, Canada. It is also accepted by various academic programs worldwide in prestigious institutions such as Harvard Business School, INSEAD and Yale University.
PTE tests are carried out 365 days in a year and one can schedule to take the test as little as 24 hours prior to it. Typically, the results come back in not more than 5 days. 
PTE assesses the four skills of speaking, listening, reading and writing. It lasts approximately 3 hours although each of the three sections is individually timed.
We are trusted partners for PTE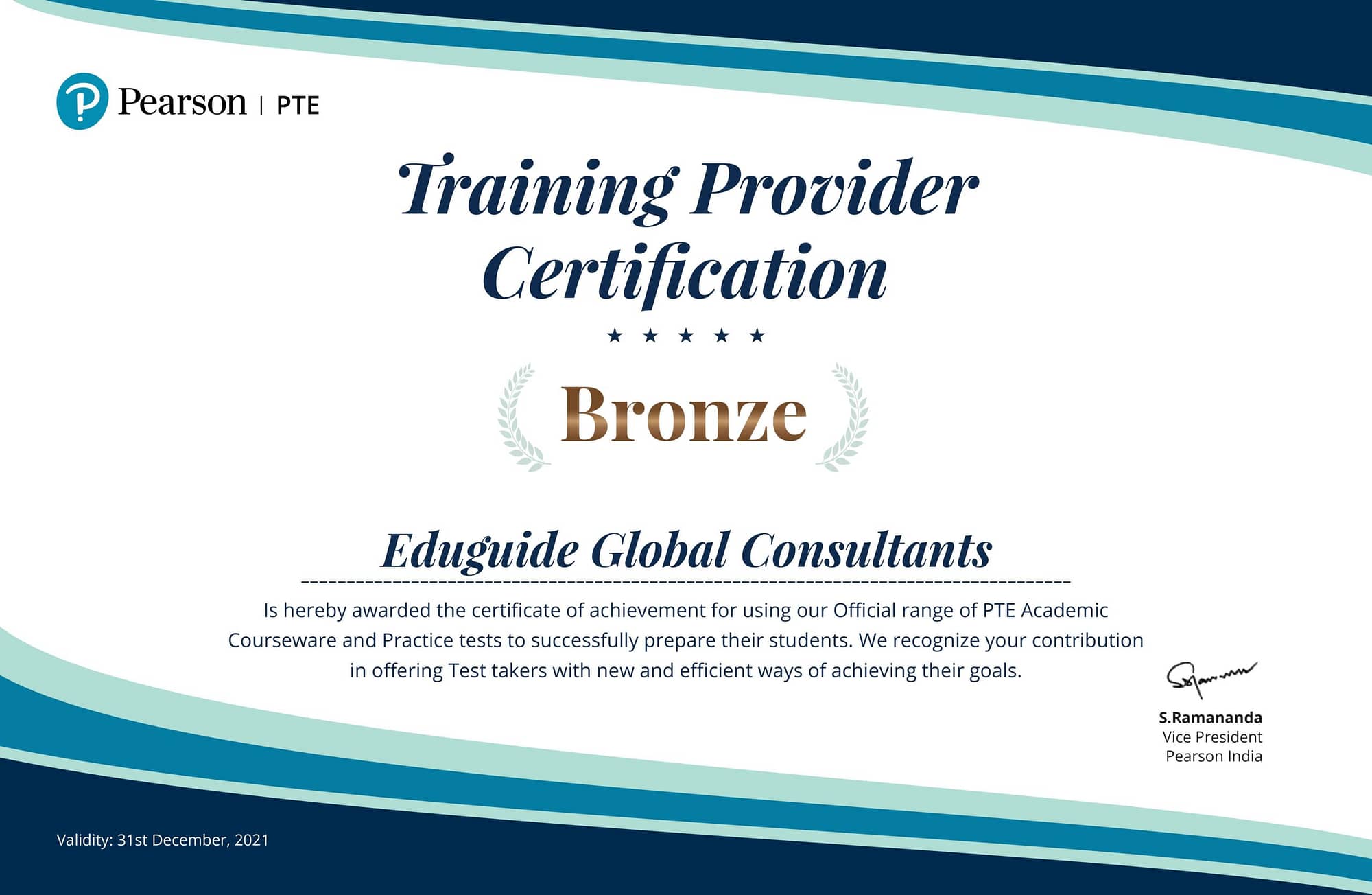 The International English Language Testing System (IELTS) is used to assess language ability in four language skills (reading, writing, speaking and listening). An IELTS certificate is usually required for study or work in some English speaking countries for entry or visa purposes. 
Understanding the IELTS exam requirements

Test strategies to improve your performance

Focus on writing skills: accuracy, style, coherence and cohesion

Troubleshooting grammar issues

Focus on reading skills: improving speed and accuracy, and building confidence

Vocabulary building and development strategies

Focus on listening skills, fluency and speaking
Eligibility criteria and prerequisites for the IELTS exam:
16 years of age and above

Valid passport of country of origin/country of residence

Plans to study in UK/USA/Canada/Australia/New Zealand

Plans to migrate to Canada/Australia/New Zealand

Basic knowledge of English grammar, business English and spoken skills are useful.
EGC ensures that our students get great scores, which will help to demonstrate your English proficiency in over 135 countries and over 9000 organizations around the world.
Eduguide Global offers key language skills for those looking to learn German and French as a part of their preparation process to study abroad. 
Learning these globally accepted and popular languages will open a plethora of opportunities, not to mention the ease with which one can live in case they choose to study in Germany or France, both very inexpensive choices.